A travel itinerary for a b*tching time in Exuma, Bahamas.
The Exuma district is a heaven on earth. Ranging from over 365 islands, one can find endless things to do such as swimming with nurse sharks, swinging on swings in the endless blue ocean to exploring secluded beaches on Little Exuma, this post should get you covered with a four day itinerary on what to do in Exuma, Bahamas. I'll be starting off this list with the must-do things all the way to things you could live without.
One: Exploring the Cays
Firstly, the Bahamas Cays are what you see in movies and social media posts of endless blue water and small islands all lined up. These range from privately owned islands (#MajorGoals), sandbars in the middle of nowhere and finally, other cays where tourists can interact with creatures i.e. nurse sharks and iguanas.
There are many tour agencies that provide day tours to explore the cays, some offer it straight from Great Exuma and others offer it from Nassau. As a result, we chose Coastline Adventures as they offered the most for the best price and boy did we choose right. The tour guides were the friendliest and funniest people, and they also offered complementary drinks on board as well as prepared a delicious conch salad for a snack on a beautiful sandbar where Pitbull filmed one of his music video clips.
We got to see a great deal of celebrity islands (that made us wonder what our life plan was), snorkelled in Thunderball Grotto, swam with pigs, nurse sharks, fed the iguanas and much more. Below is a photo preview of our tour, and for more details, check their website here.
Two: Explore Little Exuma
Little Exuma is connected to Great Exuma by a tiny bridge, and so it is considered its own island. Little Exuma however, is less developed than Great Exuma but it is a beauty. As a result, I would suggest you spend a whole day there, going from beach to beach and dining at their famous restaurants; Santana and Tropic Breeze. Ok so one of the best beaches we went to is:
A. Forbes Hill
Forbes Hill is basically a secluded beach in front of a few to-die-for houses. We had the whole beach to ourselves and were even fortunate enough to have this little friend join us that came out of nowhere. This beach is one of the first beaches you'll find when coming from Great Exuma and worth the stop.
B. Tropic of Cancer beach
Then we carried onto Tropic of Cancer beach, the most famous one, which is an endless beach of white sand and crystal blue waters. We didn't spend a great deal of time there, and we preferred the first one as this beach had quite a few people and it wasn't as clean as the first.
C. Santana's bar and grill
We then lunched at Santana's bar and grill, and tried their famous fried lobster! A delicious specialty however, please be cautious when eating this lobster as my cousin accidentally chocked on a piece. Oh, and right by it is Mom' s baked goods, her banana bread O.M.G.
D. Tropic Breeze
Lastly, you could visit Tropic Breeze Restaurant and its beach, as suggested by many locals. The food is really good and there's a beach right in front of it where you can enjoy an iced cold beverage, or better yet, there's a shipwreck really close where you can explore. Unfortunately, we didn't get the chance to visit this place for the reason that my cousin chocked on a piece of lobster and consequently we had to rush to the clinic.
Three: Great Exuma beaches
A. Coco plum beach
If you're staying on Great Exuma you should definitely visit Coco plum beach. This is the beach with the swing hanging in the crystal blue waters. It's an endless white sand beach, with a few swings, long sandbars reaching all the way out into the deep and you can swim safely as the water is relatively shallow. Like me. #JK. For directions, click here.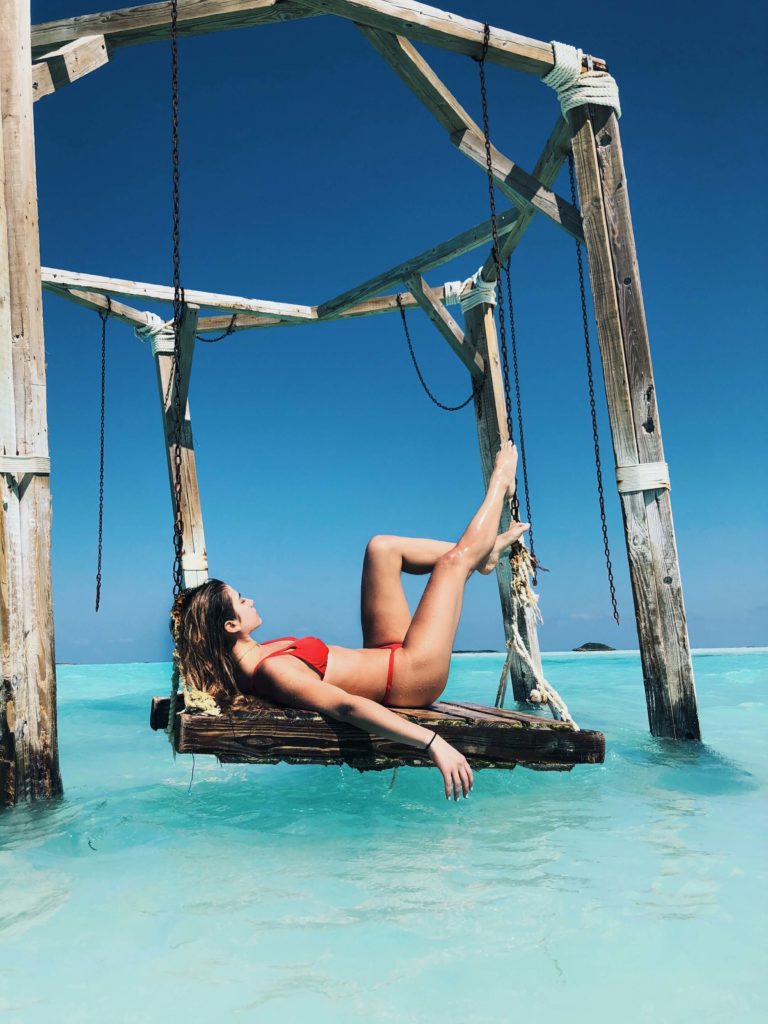 B. The Flats
If you love watching sunsets on the beach, you should go to a place called 'The Flats', as the locals call it, which is on the far east of the island. We drove from Cocoplum to this area, perhaps a 15-20 minute drive and although I am not 100% sure how to get you there, if you ask a local about this or ask where you can catch the sunset on the beach, they'll explain it to you. It's not that hard to find. And there's a sandbar in the middle of this area which is a bonus.
C. Explore
Lastly, as Great Exuma is an island, like all places in the Bahamas, and the good thing is that it's not just surrounded by water but by beautiful, secluded beaches everywhere. We were heading towards a beach called 'Jolly Hall' but stopped at a random anonymous place that looked stunning. As you're headed from George Town to Jolly Hall, you'll find back to back beaches on your right. Right before reaching Jolly Hall, that's where this beach will be. You'll find a small pathway where you can park your car and just enjoy this whole area all to yourself.
Four: Great Exuma Eats
A. Fish Fry
You should definitely devote your Friday night to dine with the locals at their local 'Fish Fry' market. Fish Fry is located in George Town, opposite the clinic, and is a big place with a variety of places to dine at. From restaurants to food stands, you'll definitely satisfy your appetite. We had lobster, and a tropical conch salad specialty from one of the stands on the far right of the market. Most of these stands don't have a name, since everyone knows everyone in the Bahamas and therefore refer to each stand as 'Jeddy's Hut' for example. Nevertheless, I suggest you try a few specialties from around. You could also stay afterwards at the bar/club where all the locals dance and have fun. They are super inviting and sure know how to dance!
B. Shoreline Bar
Now, if you're looking for lunch by a secluded beach, I suggest you lunch at the Shoreline bar which is on the east side of the island. You get a very Bahamas looking restaurant, with delicious local infused dishes such as fish tacos and shrimp curry as well as enjoy delightful freshly made Bahama Mama cocktails.
Five: Chat n' Chill
Lastly, go to Stocking Island for Chat 'n' Chill Sunday pig roast. This is an island right opposite Great Exuma where you take a taxi boat and consequently pay a $15 return trip ride there. Tourists bombard Stocking island on Sundays being that it's a major tourist attraction. As yucky as that might sound, the food is super yum, and is therefore worth the visit. The place is surrounded by yachts as tourists travel from all over the Bahamas to have the famous pig roast. On the brighter side, there's pet stingray's there where you can play with!
Thank you for reading this post! I hope you enjoyed it!
To read about what you should know before traveling to Exuma Bahamas, click here!
For more Caribbean destinations, click here!
-VB x